Description
Lazer Strada Kineticore Helmet
Whether you're taking a leisure weekend ride around the city or setting out for a new personal best on Strava, the Strada KinetiCore offers extensive protection for all levels of cyclists so you can focus on the best part: getting the absolute most out of every ride.
Enjoy every ride
The new Strada KinetiCore offers upgraded protection for every type of rider at a price that won't break the bank. Featuring KinetiCore's built-in protection technology with its Controlled Crumple Zones, the Strada covers your back whether you're enjoying a weekend ride or tackling a long day in the mountains. The helmet provides superior 360° comfort thanks to the easy-to-adjust ScrollSys fit system, and the floating front headband aids ventilation, helping you stay cool when you're working up a sweat. The TPU Eyewear Docking offers secure storage of your eyewear when you're not wearing them, and the optional Universal LED light docks onto the helmet to increase visibility. To complete the package, a patented Aeroshell is available as a spare, to help you go faster and protect you from the elements.
Strada KinetiCore rated 5 stars for safety in rotational impact tests.
Specifications
Fit System
Sizes
Weight
Vents
ScrollSys System

S/52-56cm    M/55-59cm    L/58-61cm    XL/61-64cm

290g (Size Medium CE)

23 vents
Improved fit & overall comfort
Refine your helmet's fit by scrolling the easy-to-use ScrollSys belt for the ultimate fit.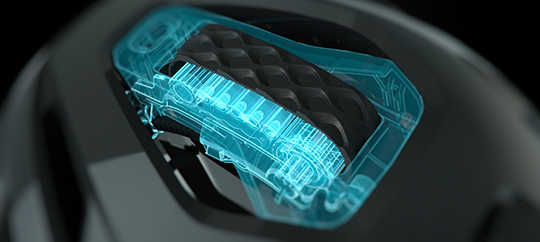 Description
Pedal with peace of mind and leave the protection up to us. Better by design, KinetiCore is the world's first responsibly designed and fully Integrated Rotational Impact Protection technology that's built right into the helmet instead of added on after.
Featuring highly breathable ventilation channels, a silicone docking system to conveniently stash your eyewear, and Aeroshell compatibility for increased aerodynamic performance and protection in every kind of weather, the Strada KinetiCore delivers high-value performance in a light and comfortable package. The ScrollSys belt adjusts for a quick and secure fit with minimal fiddling, and LED light compatibility at the rear of the helmet ensures maximum visibility for those rides that start or end in the dark. This helmet scores a "Best Available" 5-star protection rating from Virginia Tech.
WEIGHT

290g (size medium)

MATERIAL

EPS Foam

Polycarbonate

Nylon

FIT SYSTEM

ScrollSys

VENTILATION

21

ROTATIONAL PROTECTION

Lazer KinetiCore

CERTIFICATION

CPSC

ACCESSORIES

Optional Aeroshell

Optional Universal LED